Stacy Smith recently caught my attention as the Los Angeles Times featured a great article highlighting the issues of sexism in film and television by referring Smith's research. Check the article out below:
Professor Stacy Smith and the USC Annenberg Inclusion Initiative found that women made up only 4.3% of all directors of the 1,100 top films released from 2007 to 2017. That represented a ratio of 22 males to each female director. In addition, only four black females, three Asian females and one Latina directed any of those 1,100 films.

"When people think of a female director — it's a Caucasian female," Smith said Thursday in an interview. "There were only eight women of color directing those 1,100 films, including only one Latina — that shows something in the system is broken."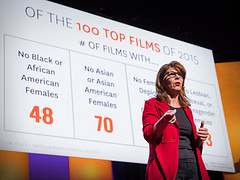 She has been mobilizing and taking her research to more stages. Enjoy her TED Talk  Here.